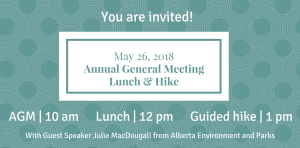 Join us on May 26, 2018 for the Castle-Crown Wilderness Coalition Annual General Meeting. The event will feature guest speaker Julie MacDougall, the Senior Parks Planner for Alberta Environment and Parks.
When: May 26, 2018 from 10 am to 12 pm
Where: Coalfields School, Beaver Mines
Lunch: At 12 pm, minimum $5 donation on site is appreciated
Hike: From 1 pm to 4 pm, weather permitting. The hike will be led by Wendy Ryan and will lead us from Castle Falls to Castle Provincial Recreation Area. Approximately 5 km. Bring appropriate clothing and water.
RSVP: On EventBrite.